Die Internationale Rote Hilfe bekundet ihre Solidarität mit dem IRSP-Mitglied Sean Carlin, der heute vor ein britisches Besatzungsgericht in Belfast gebracht wird. Unter Bezugnahme auf sehr weitreichende Antiterrorgesetze wollen die Behörden Sean wegen des Tragens einer Flagge zu Ehren der Opfer der Kämpfer der Belfaster Brigade von INLA anlässlich einer Demonstration für den Osteraufstand von 1916 verurteilen.
Hinter diesem Prozess steht der Kampf der britischen Besatzer und ihrer Kollaborateure, nicht nur die Widerstandskräfte auszulöschen, sondern auch ihre Geschichte und ihr Andenken. Dieser Kampf gegen das historische Vermächtnis ist eine Konstante aller Kolonialisten und Besatzer.
Die Internationale Rote Hilfe steht in Solidarität mit Sean Carlin, und um den Angriff des Feindes gegen sich selbst zu wenden, zollt die Internationale Rote Hilfe allen Freiwilligen der Belfaster Brigade der INLA, die als Kämpfer, für den Sozialismus und für die Unabhängigkeit Irlands gefallen sind, besondere Anerkennung.
Internationale Rote Hilfe,
14. Dezember. 2018
---
The International Red Help expresses its solidarity with IRSP member Sean Carlin, who will be brought today in front of a British occupation court in Belfast. By means of infinitely extensive anti-terror laws, the authorities are aiming to convict Sean for wearing a flag to honor the sacrifices of the fighters of the Belfast Brigade of INLA, at the occasion of a demonstration for the Easter uprising of 1916.
Behind this trial, there is the struggle of British authorities and their collaborators to erase not only the resistance forces, but also their history and their memory. This struggle against historical memory is a constant of all colonialists and occupying powers.
The International Red Help stands in solidarity with Sean Carlin and, to help turning the attack of the ennemy against itself, the International Red Help pays special tribute to all the volunteers of the Belfast Brigade of the INLA who fell as fighters, for socialism and for the independance of Ireland.
International Red Help,
December 14. 2018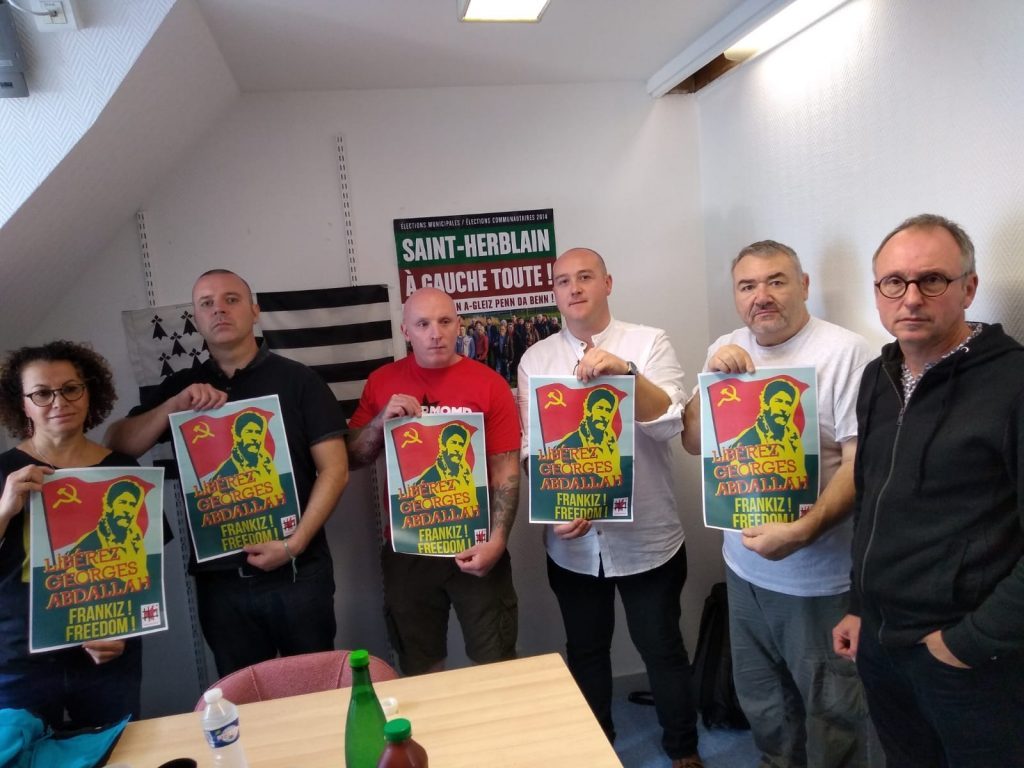 Sean Carlin en rouge au centre lors d'une photo en solidarité avec Georges Ibrahim Abdallah à St Herblain en Bretagne