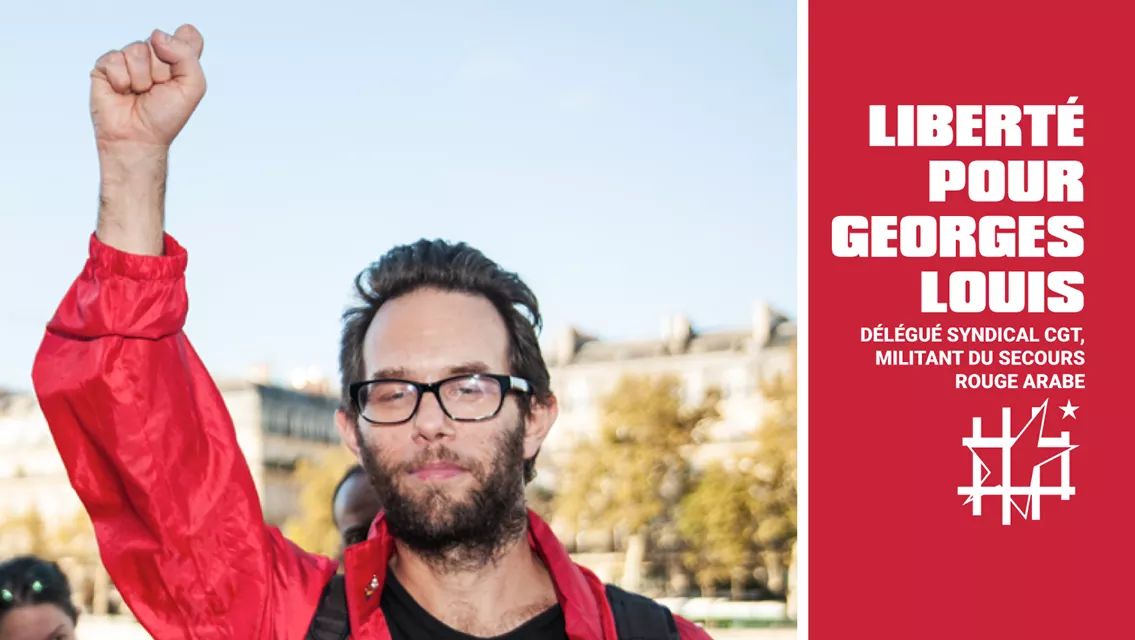 Our comrade Georges Louis, union representative at the CGT (General Workers Confederation) and a militant of the Secours Rouge Arabe (Arabian Red Help), was arrested again. At 4.30 AM, 10 armed and masked policemen and 4 civilian policemen took our comrade after breaking his door and devastating his appartment. Georges is now held and questioned in Saint-Denis, we don't know for what reasons he was arrested. In the context of the State of Emergency, Georges was already two times forbidden to demonstrate: on February 23 at the occasion of a students demonstration for Theo (raped with a baton by a police officer), and on May 7 for the second round of presidential elections. Georges was then arrested on October 10 in the context of the wide repression against the opposition movement against "Labor Law XXL". Following this arrest, he was charged and convicted in November to 5 months in prison suspended for "violence against public authority representatives" and "participation in a group formed to prepare violence against people or destruction of goods".
In his statement at the Court, Georges was very clear regarding his commitment and his militant practices. His co-workers know him as a devoted and combative union representative and we know him as an active militant of the international solidarity movement. He was always present in the mobilisations for revolutionary prisoners, wether they were communists, anarchsts, antifascists or anti-imperialists. As our comrade is once again confronted with repression, as his relatives and friends are prevented to know the reasons of his arrest, we express our warmest and whole solidarity with Georges Louis.
Secours Rouge Arabe, Arabian Red Help (Paris),
Secours Rouge International, International Red Help (Brussels, Zurich)
January 17, 2018.
The Facebook page "Freedom for Georges Louis" can be found at this address: https://fb.me/freegeorgeslouis
***
Notre camarade Georges Louis, délégué syndical à la CGT et militant du Secours Rouge Arabe a à nouveau été arrêté. A 4H30 du matin, dix policiers armés et cagoulés et quatre policiers en civils ont emmené notre camarade après avoir défoncé sa porte et dévasté son appartement. Georges est actuellement détenu et interrogé à Saint-Denis sans que nous sachions les motifs de cette arrestation. A deux reprises dans le cadre de l'état d'urgence, Georges avait été la cible d'interdictions de manifester : l'une le 23 février à l'occasion de la manifestation de lycéens pour Theo et l'autre le 7 mai pour le second tour de l'élection présidentielle. Georges avait ensuite été arrêté le 10 octobre dernier dans le cadre de la répression contre le mouvement d'opposition à la Loi Travail XXL. Il avait donc été poursuivi et condamné en novembre dernier à 5 mois de prison avec sursis pour "violence sur des personnes dépositaires de l'autorité publique" et pour "participation à un groupement formé en vue de la préparation de violences contre les personnes ou de destructions ou dégradations de biens".
Dans sa déclaration au tribunal, Georges avait été extrêmement clair quand au sens de son engagement et à ses pratiques militantes. Si ses camarades de travail connaissent Georges comme un délégué syndical, dévoué et combattif, nous le connaissons comme un militant actif dans la solidarité internationale, toujours présent dans les mobilisations pour les prisonniers révolutionnaires, communistes, anarchistes, antifascistes et anti-impérialistes. A l'heure où notre camarade est une nouvelle fois confronté à la répression, alors que ses proches et ses amis sont dans l'ignorance des raisons de cette nouvelle arrestation, nous exprimons ici nos salutations les plus chaleureuses et notre pleine solidarité à Georges Louis.
Le Secours Rouge Arabe, Paris,
Le Secours Rouge International, Bruxelles-Zürich,
le 17 janvier 2018
La page Facebook de soutien à Georges